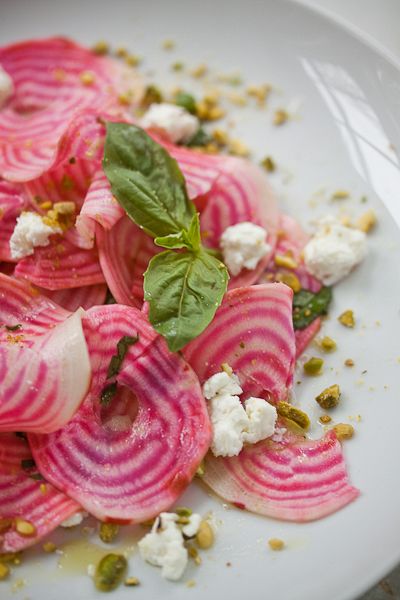 Ingredients
1 pound Chioggia, orange, yellow or red beets, peeled, about 5 or 6 medium
Handful fresh basil leaves, thinly sliced
2 tablespoons fresh lemon juice
2 - 3 tablespoons olive oil
1 1/2 teaspoons sugar
1/4 teaspoon salt
1/4 cup soft, fresh goat cheese
2 tablespoons toasted chopped pistachios
Fresh baby arugula and/or salad greens
Directions
Shave the beets into ribbons with a vegetable peeler, mandoline slicer or spiral slicer. Toss gently on a plate or large bowl with the basil.
Whisk together the lemon juice, oil, sugar and salt until dissolved and blended.
Toss the beets with just enough of the dressing to coat lightly; add more dressing and seasoning to taste. Top with goat cheese and pistachios. Serve over arugula or baby greens.